OK Ethics Community Impact Awards 2017
DEADLINE FOR APPLICATIONS IS NOON ON THURSDAY, APRIL 13
2017 Community Impact Award Application


Delivery Options:
Candidates are strongly encouraged to apply online.  However, special arrangements for dropping off an application may be made by contacting Shannon Warren at (405) 858-2233 or (405) 826-7648.  Award applicants desiring to bring hard copies of their application must provide four complete sets as well as a disk with high resolution promotional photos representing the organization's work.


The purpose of this award(s) is to recognize organizations that are positively impacting their communities in ways that inspire integrity. It is open to for-profit, non-profit, educational and government entities. There are two categories for this award as described below:
 I)   Education:  Organizations honored in this category have demonstrated an ability to engage students and faculties in initiatives that significantly promote ethical behavior on Oklahoma campuses.   Efforts will be assessed based on the width and depth of these endeavors.  For example, while monetary outreach is a consideration, the selection team will also be interested in other factors, such as the number of individuals impacted and the degree to which the initiatives have made a positive difference.
II)   Community:  Organizations honored in this category have made significant outreach efforts that serve to uplift the community, specifically by promoting strong principles, ethical leadership and integrity.  Please note that this should not be confused with the Compass Award criteria used for Corporate Social Responsibility, but is geared to fostering ethical behavior by inspiring and mobilizing members of the community toward actions that reflect Oklahoma values of integrity.
 *Note that, because it is in everyone's best interests to promote high standards of ethical behavior, these awards are not limited to for-profit companies.  For that reason, non-profits, educational and governmental institutions are ENCOURAGED to apply.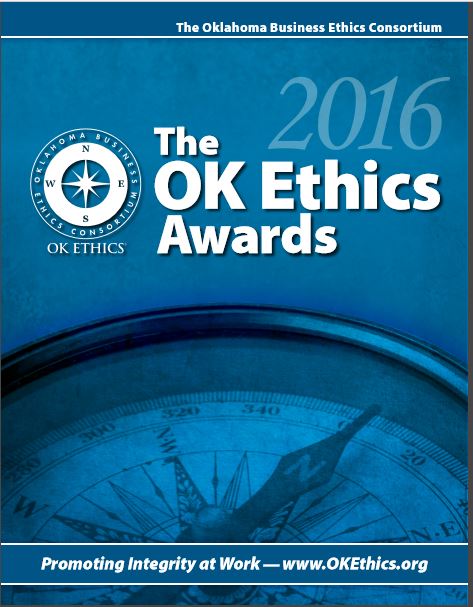 You can read more about OK Ethics and the 2016 Community Impact Award Recipients and Honorees in the 2016 Award program. 
          2016 COMMUNITY IMPACT AWARD RECIPIENTS & HONOREES
2016 Community Impact Award

Recipients

                                             

 

2016 Community Impact Award Honorees - Education Category

 

                                              

 

 

2016 Community Impact Award Honorees - Community Category  
                                          
---
2015 COMMUNITY IMPACT AWARD RECIPIENTS & HONOREES
Education Category
Community Category

 

Oklahoma Christian University (Edmond) 

 

 

 

 

General Tommy Franks Leadership Institute (Hobart)

Dove Science Academy (OKC)

 

Oklahoma County Sheriff's Department (OKC)

   

 

 

FFA (Stillwater)

 

 

 

Girl Scouts of Eastern Oklahoma (Tulsa)

   

Junior Achievement (Statewide)

   

 

 

Oklahoma Center for Non-Profits (Statewide)

 

 

Global Gardens (Tulsa)

 

 Honorable Mentions:

Oklahoma Baptist University and the Oklahoma Foundation for Excellence

 Honorable Mentions:

OKC Community Foundation, REI (Durant), Smart Start (OKC) and INTEGRIS Health
2014 COMMUNITY IMPACT AWARD HONOREES
| | |
| --- | --- |
| | |
| Click here to view Dove Science Academy application | Click here to view Metro Technology Centers application |
| |   |
| Click here to view Champlin Broadcasting application | Click here to view Global Gardens application |
| |   |
| Click here to view Girls Scouts of Eastern Oklahoma application | Click here to view Girls Scouts of Western Oklahoma application |
|   |   |
| Click here to view University of Oklahoma Integrity Council application |   |

  2013 COMMUNITY IMPACT AWARD HONOREES
   2012 COMMUNITY IMPACT AWARD HONOREE

Click here to view ONEOK, Inc. application