2008 FIFTH ANNIVERSARY RECEPTION & DINNER
GAILLARDIA COUNTRY CLUB
OKLAHOMA CITY
November 5, 2008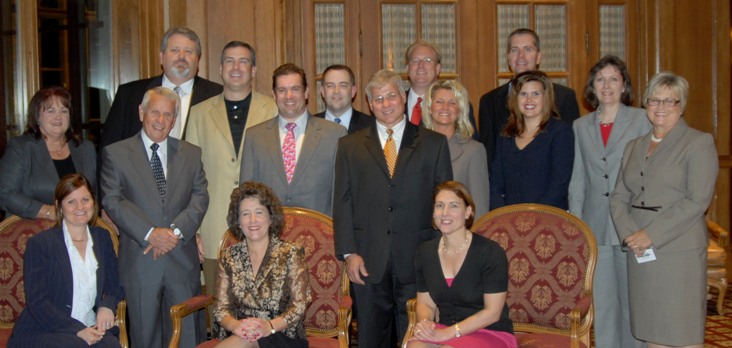 OK Ethics Consortium & Foundation Board members
Seated in front:
Pam Fountain, Shannon Warren, Lynn Flinn

Standing behind chairs (l to r) are Valerie Fried, Bob Byrne, Buck Irwin Todd Lisle, David Mayfield, Jared Cawley, Rob Martinek, Garyl Geist, Shannon Hiebert, Nick Minden, Kelli Schneider, Myrna Latham, and Janice Dobbs.
Navigator members represent the highest level of member commitment. Contributing $7500 to OK Ethics, they often share their tables with students from various universities. In addition, a portion of their dues are earmarked to support the OK Ethics Foundation, hosting student ethics challenge events and student ethics chapters on various campuses.
Seated (l to r) are Joy LaBar (SandRidge Energy) and
Janice Dobbs (Devon Energy)
Standing behind them are Tony Blasier (Chesapeake Energy),
Brian Fayak (Nextep), Bobby Brown (Kimray, Inc.), Steve Wood (ONEOK),
Rob Martinek (The Bama Companies, Inc.) and David Lewis
(Express Employment Professionals)
Mr. Bobby Brown accepted the Navigator member award on behalf of Kimray, Inc.

Mr. Brian Fayak, CEO of Norman-based Nextep, accepts the Navigator member award for his company.

Joining in November, 2003,
Janice Dobbs with Devon Energy

was one of the original members.

Tony Blasier, Director of Ethics for Chesa-peake Energy, holds the crystal obelisk presented to Navigator members.

Rob Martinek , a long-term member of the OK Ethics Board of Directors represents The Bama Companies as a Navigator member.

Joy LaBar with SandRidge Energy, seen here holding her company's crystal obelisk for the Navigator member category.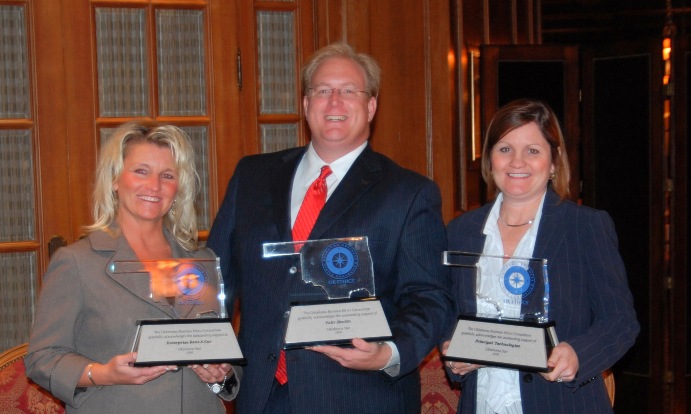 Oklahoma Star Members
Shannon Hiebert, Enterprise Rent-A-Car
Garyl Geist, Valir Health
Pam Fountain, Principal Technologies
Character Awards presented to university advisors (l to r)
Dr. Earlene Smith, Rose State College; Dr. Katherene Terrell, University of Central Oklahoma and Deborah Hill Burroughs of Langston University (OKC Campus)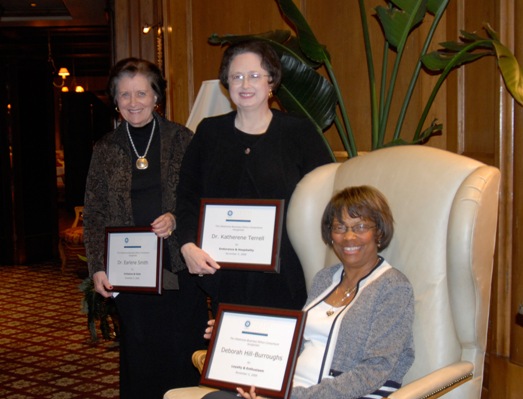 "In the trenches with Jim Priest"
| | |
| --- | --- |
| Peter Dobelbower of Hobby Lobby was OK Ethics first speaker, addressing a crowd of HR professionals at a Metro Employers Council on September 16, 2003. This program launched the idea of a group dedicated to reinforcing Oklahoma values of integrity at work. He is seen here in a fun interview with one of OK Ethics founding members, attorney Jim Priest, who donned the attire of an embedded reporter for the event. | Shannon Hiebert with Enterprise Rent-A-Car was the first to respond to the call for an organization dedicated to promoting ethical behavior in the workplace. |
| Dr. Dave Carmichael has retired from OCU Meinders School of Business, but his efforts continue forward with the development of many student chapters on various campuses. Pictured here with field reporter, "Scoop" Priest and film crew from ReelCast. | Heidi Rambo Centrella was the first to report the story of OK Ethics development back in early 2004. At that time, we had about 75 members. At the anniversary event, the organization had grown to over 600 members representing more than 90 companies. |
| Cheryl Doellefeld-Barth facilitated the first strategic planning session in OKC on October 23, 2003. | Jim Priest doing a mock interview with Registration Chair, Greg Byers. |
Guests Celebrate OK Ethics Five-Year Anniversary
Cheryl Doellefeld-Barth poses with

OK Ethics founder, Shannon Warren.

One of the six founding members, Valerie Fried of Capitol Abstract & Title poses with Myrna Schack Latham of McAfee & Taft.

Ms. Riley, Ms. Robinson and Ms. Manaugh of Metro Technology Centers enjoy the OK Ethics reception. Metro Tech is a long-standing Horizon member of OK Ethics.

Guests Dr. Cappy Leland and Alisa Hall enjoy a few laughs before the celebration.

Kimray's Chaplain, Shad Glass with wife at anniversary dinner honoring top level members of OK Ethics.

Larry Musselwhite helped launch OK Ethics by hosting Shannon Warren (center) and Peter Dobelbower as speakers for a September 16, 2003 Metro Employers Council meeting. The topic was "HR in the Hot Seat" and it was discussion about HR's impact on ethical behavior in an organization.

The Enterprise Rent-A-Car table are relaxed and ready for a
good time!

Valerie Fried (left) of Capitol Abstract shares a program with Eric Woodworth, Jana Momeni and Shannon Hiebert of Enterprise Rent-A-Car.

University of Oklahoma Dr. Edward Sankowski and wife Betty Harris enjoy the commemorative
OK Ethics magazine.

Trent Richey of SandRidge Energy attended the 5th anniversary event with wife Ginger.

Navigator Member, David Winfrey of Express Employment Professionals relaxes during dinner.

Full Force's Kellian Schneider, Vice President of Public Relations and founder, Shannon Warren pose in front of the awards.

Chade Nash of Gabbard & Company relaxes at the piano with Mary Kay Huggard of Principal Technologies and Greg Byers of Sinclair Broadcasting.

Crowd shot of gathering at Gaillardia Country Club for OKEthics fifth anniversary dinner on November 5, 2008.

Shannon Warren, founder, poses with the "real" Jim Priest - attorney and OK Ethics founding member.